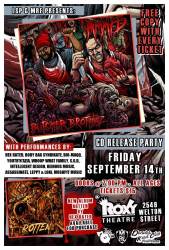 LSP & MRE Proudly Presents
M.M.M.F.D Butcher Brothaz CD Release Party
Time: 7:00pm Day: Friday Ages: All Ages / Bar with ID Price: $15
This Event Has Ended
M.M.M.F.D.
 (Make My Mutha Fuckin Day) is a dark hip hop duo that consists of underground veterans Scum and Insane Poetry, both currently signed with LSP (Lyrikal Snuff Productionz). They have 3 albums out as a group (plus over 25 solo releases between the 2 of them) and are touring in support of their newest installment "Butcher Brothaz" which drops September 2018. 
SCUM, a Russian-American rapper, based out of Denver, Colorado is one of the most recognizable names in today's horrorcore. He's been active in the scene since 2000 when he founded Lyrikal Snuff Productionz (currently LSP, LLC), a record label which became home to some classic underground acts such as Dark Half, Liquid Assassin, Insane Poetry, and many more and is responsible for more then 70 releases worldwide to date. Scum is known for his dark, ultra violent, and horror themed lyrics that he uses in conjunction with less traditional, bouncy and upbeat instrumentals which define him as the pioneer of the gorehop sub-genre. Throughout his career, Scum released 11 solo albums, 4 group releases (LnG, 4Horsemen, and most recently MMMFD, a duo project with Insane Poetry which is due for their 3rd release in 2018) and just released the long anticipated 3rd installment to his highly successful Mr. Zipperface album series in January of 2018 followed by a coast to cast tour in support of that release. Scum's albums feature most of the underground heavyweights in this genre and he has completed 15 Nationwide Tours, headlining 10 of them, co-headlining 3, and supporting 2. With almost 2 decades under his belt in the rap game, Scum and LSP have built a worldwide cult following and truly became a household name in the world of horrorcore. Its almost impossible to attend a major event in this genre and not run into people with their trademarked saw and axe tattoos, charms, and various merchandise representing the LSP brand. With a new album, new and carefuly picked live set, extremely intense and aggressive stage presence, bloody horror props, and offensive, disturbing, yet addicting merchandise, you don't want to miss Scum's next show when he is performing in your area!
INSANE POETRY was one of the first horrorcore rap groups before the term "horrorcore" was coined to emerge in hip-hop in (1988) featured members( Cyco, Emdee and DJ Streek). They debuted with the underground magnum opus and critically praised full length cd "Grim Reality " (1992) Blending horror flick-influenced surrealism with graphic, California-styled gangsta raps, the Los Angeles outfit had developed its own cult following. Members of Insane Poetry came and went, but lead MC/producer Cyco (born Andrew Holiman) remained as the constant, creative drive maintaining the group's presence as horrorcore hip-hop became a mostly underground phenomenon in the new millennium. Insane Poetry teamed up with west coast veterans Rodney O and Joe Cooley to write and perform on their national release " Get Ready to Roll " which featured Insane Poetry and later signing with Nastymix records(home of Sir Mix-a-lot) based out of Seattle. Grim Reality debuted on the Billboard music charts at 98 and went on to sell over 45,000 cds before soundscan and over 75,000 cds sold till this date. Despite the favorable reception of the album and its cult-favorite single "How Ya Gonna Reason with a Psycho," Nastymix, whose roster was mainly club- and party-rap acts, didn't know what to do with the horrorcore group's maniacal image. Regardless, Nastymix folded, prompting IP (with Em-Dee now replaced by Pope) to record their second album, Blacc Plague (1996), for React/Polygram. Due to similar disagreements with Polygram in terms of promotion and support, IP departed the label. In that same year Insane Poetry appeared in a DVD called " Faces of Death 2000 " Cyco then linked up with Vanilla Ice and was responsible for writing over 10 songs on his release " Mind Blowin " and wrote 4 songs and appeared on " Hard To Swallow " a mosh up cd of rap and rock produced by Ross Robinson. The most notible song written that appears on both Bi-Polar and Faith in Chaos is " OKS " Original Killa Shit which V-Ice still performs today. Except for a few 12"s and a three-track EP, Let 'Em Know (1999), IP was largely quiet during the late '90s. But as the L.A. underground hip-hop scene started to take off in the early 2000s, Cyco resurrected the group's name, collaborating with M-Boogie, Dilated Peoples, and Wake Up Show turntablist DJ Revolution. With Cyco as the only remaining member, IP issued Faith in Chaos in 2003, followed by Fallen from Grace in 2007. In 2008, Insane Poetry signed a one-album deal with Never So Deep Records and released a ghetto metal cd named " Cyco-The Snuff Reels " out on Never So Deep Records infusing Cyco's dark lyricism over death-metal hip-hop beats produced by Sutter Kain (aka DJ Bless). In 2009, Insane Poetry released a re-mixed and re-mastered version of Blacc Plague, entitled the "Deadly Virus Edition." Presently, Insane Poetry is signed with Lyrikal Snuff Productions (LSP) and released " The Best of Insane Poetry", "Creative Destruction", "Killaborations","Violent Art", and "Snuff Reels - The Directors Cut" to date while actively touring the nation solo and with labelmate Scum as MMMFD.