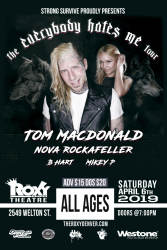 Strong Survive Proudly Presents
Tom Macdonald and Nova Rockafeller
GFBF
Time: 7:00pm Day: Saturday Ages: All Ages / Bar with ID Price: $15
This Event Has Ended
Currently living in Los Angeles, Tom was born in Vancouver, Canada and spent most of his teenage years as a
professional wrestler In the past 5 months, Tom has accumulated over 15 million video views on his last 4
singles/videos, with these videos being shared cumulatively upwards of 500k times. His latest single "HELLUVIT" hit
3.5M in 3 days, is currently at 8M+, and is generating one million views every 3 days.
  With the "start local, think global" mentality, he has been nominated for many Canadian awards, including the
prestigious Leo Award, his videos have aired on Canadian nation-wide television, including major networks like
MuchMusic (MTV of Canada). He has performed as main support for Major Lazer, Madchild, Swollen Members, and
toured through Europe twice in 2013/2014 with Kool Keith and Onyx.


Canadian born, Jamaica raised Nova Rockafeller is a veteran in the hip hop scene, touring with legends like R.A. The Rugged Man, ICP and Killah
Priest through Canada, the US and Europe, she also crossed over into the pop punk scene by touring as main support for All Time Low, and
performing at RiotFest in Toronto. No stranger to the cool kids either, Nova made an entire EP with LA's own DJ Nobody and had a month long
residency at Low End Theory.
She's an alternative rapper whose upbeat records boast huge hooks and technical but engaging verses. She has crossed over to mainstream
multiple times just to return to her roots as a hard hitting emcee, only to go back and smash through pop singles, repeatedly. If the Beastie Boys were
an angsty young adult in 2018 - you'd have Nova.
Landing a major record deal with Island in 2013 off an album she made in her basement, she's been undeniable since the beginning. Spending her
teen years living in group homes and getting kicked out of every school she went to, she has always been against the system. With her major deal,
that became apparent. When they wanted a radio single, she delivered, as she does, but in her own way. "Made in Gold" was her anti-pop smash,
trashing the music industry, yet climbed the chart to #17 on Sirius Hits 1 weeks, getting syncs in The Duff, The Sims and a Rogers Canada
commercial.
Since then her songs have been featured on MTV Siesta Keys, Bad Girls Club and Dancing With the Stars to name a few, but Nova went under the
radar to get out of her deal and rebrand, tired of trying to dumb herself down to make herself more accessible, she's now doing the opposite. She's
being herself; A force to be reckoned with. Her most recent release, a vicious response to the industry, grew to 500,000 views on facebook in just a
few weeks. With an EP in the works and her cult following in her back pocket, the world has only seen the beginning of Nova Rockafeller.